The first paper from my PhD research into run-commuting has been published this week in the Journal of Transport Geography. It is also open access meaning it is freely available for anyone to read.
You an access it here: https://www.sciencedirect.com/science/article/pii/S0966692321000910?via%3Dihub
Here is the abstract for a quick overview:
Drawing on the first academic research into run-commuting, this paper places running more firmly on the agenda within transport studies. Run-commuting is a rapidly growing mobile practice in which people run between work and home. Academically, very little is known about the practice, with scant research conducted into it. This paper begins to rectify this by critically exploring the geographies of run-commuting in the UK and the politics of mobility that emerge from this. Based on a survey of 287 UK run-commuters, this paper explores the broader trends and patterns within the locations, demographics and movements of run-commuters in the study. This reveals a highly socially-fractured practice with various privileges that enable and constraints that limit run-commuting possibilities. Run-commuting is racialised, gendered and classed with it being most popular with urban-dwelling middle-aged white men in highly paid professional jobs, social differentiations that punctuate much of the practice. This paper also shows the uniqueness of run-commuting as a mobile practice. Arguably more concerned with running than commuting, run-commuting is highly entwined with and affected by other practices of everyday life, notably the rhythms of work, home and exercise. Run-commuting research expands the scope of active travel and demonstrates the value of conversations between transport, mobility and sport studies in understanding such modes. It is also a practice that challenges many understandings held about transport, such as notions around motivation, speed, time, productivity and effort. Run-commuting is a productively provocative practice that opens up opportunities to think and do transport otherwise. This paper shows its worth to transport studies' agendas.
And here is an unroll of my Twitter thread summarising the paper:
Just published – the first paper from my PhD – and #openaccess too🥳
'Geographies of run-commuting in the UK' in the Journal of Transport Geography @Transport_ELS
https://www.sciencedirect.com/science/article/pii/S0966692321000910?via%3Dihub
As promised – a thread 🧵1/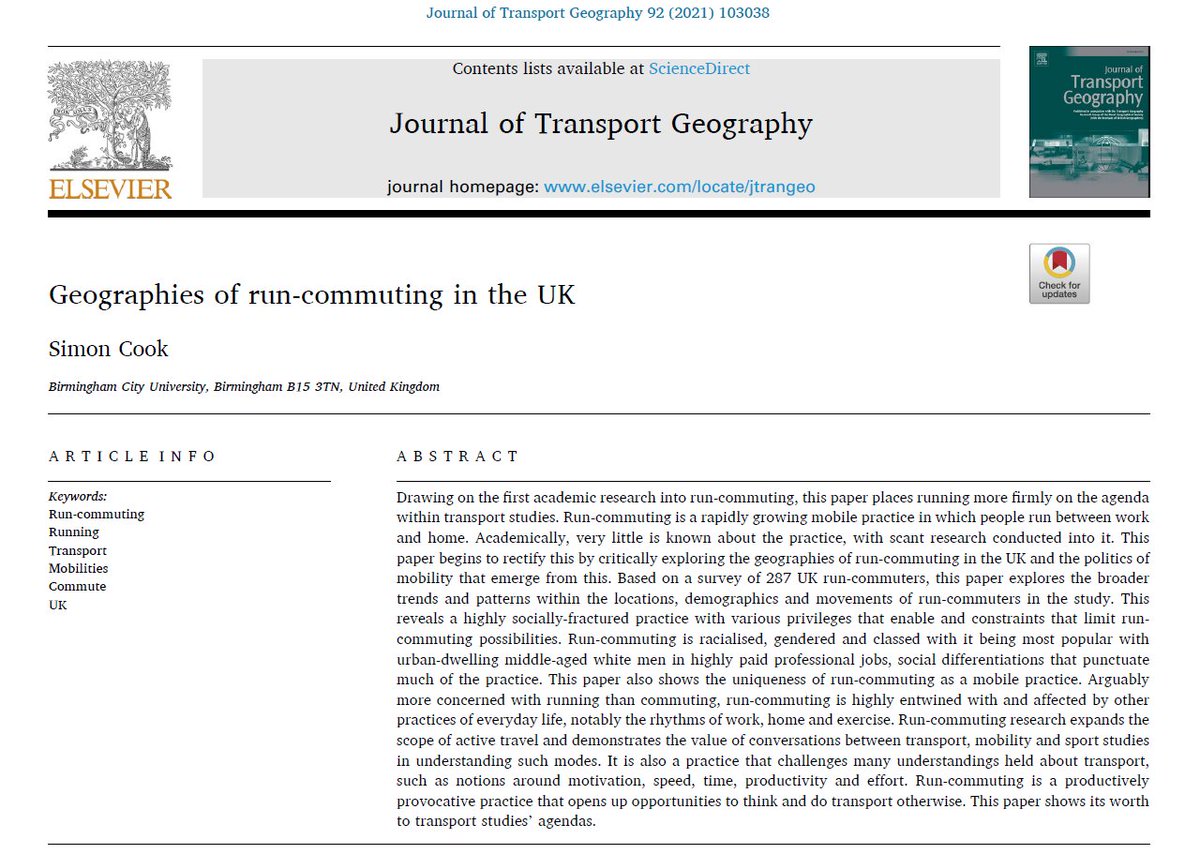 Based on the first large-scale research into the #runcommute, this paper seeks to do 2 things:
1 – Put running on the agenda within #transport & #activetravel studies
2 – Explore the locations, demographics & movements of run-commuters in the UK revealed through a survey
🧵2/
I argue that running is a productively provocative practice for transport studies
Its uniqueness and hybridity as a mobile form challenges many assumptions held about why people move and do so using particular modes
It opens up ways of thinking/doing transport otherwise
🧵3/
Most people take up run-commuting as a time-saving practice. But this highly socially-fractured.
Run-commuting is racialised, gendered & classed, most popular with urban-dwelling middle-aged white men in highly paid professional jobs
This punctuates its geographies:
🧵4/
In terms of home location, run-commuting in the UK is most popular in urban areas, but not all.
Many social/physical structures affect run-commuting rates. Higher presence of white-collar jobs, active/public transport use & linear running routes are some possible examples
🧵5/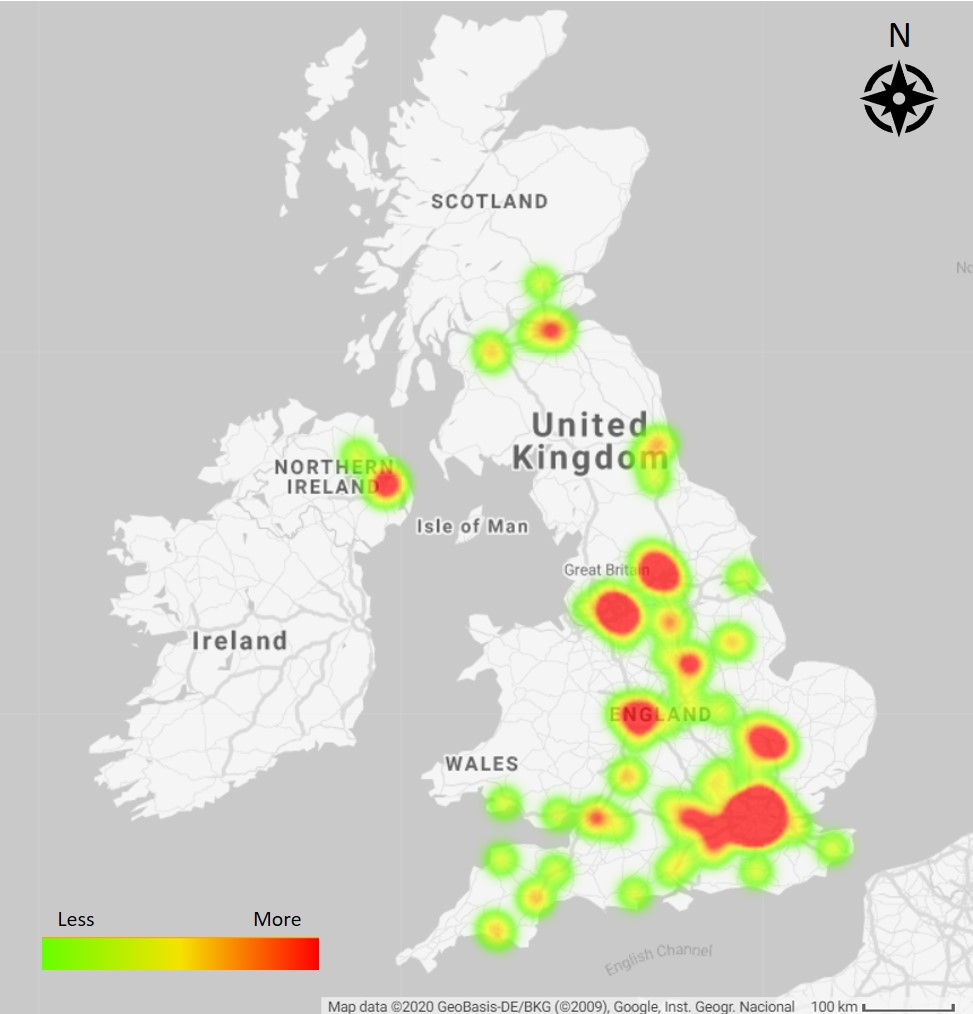 The work locations of survey respondents suggest that run-commuters are generally commuting into city centres for work.
🧵6/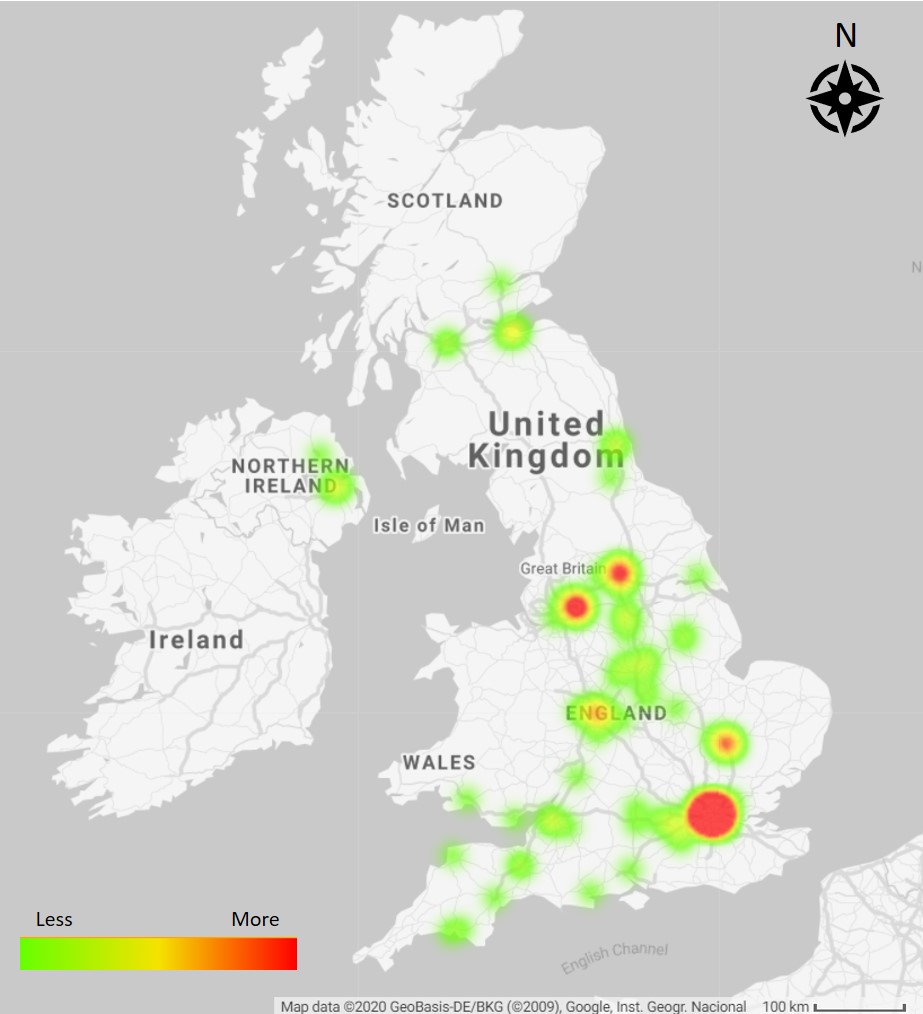 Looking at these patterns in London (the most popular run-commuting city) reveals more detail
Respondents were more likely to live in more affluent, less diverse areas (L)
And more likely to work in areas with high proportions of finance, media and legal industries (R)
🧵7/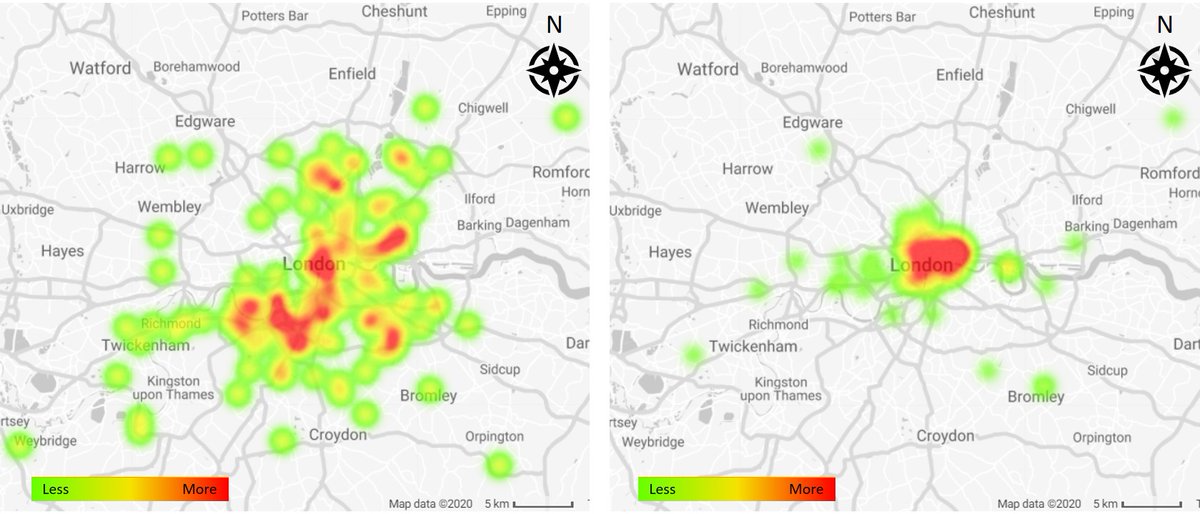 Moving onto who run-commuters are…
Firstly, they are most likely to be runners prior to run-commuting.
And more likely to be 'serious' runners which provides the time-pressures run-commuting is being used to soothe.
About 50% of respondents are running club members.
🧵8/
>90% of respondents were full-time workers
Key industries for run-commuting include:
– Teaching & education
– Accounting, banking & finance
– Health & social care
– Marketing
Workplace cultures & facilities important here
Low presence of physical jobs in the survey
🧵9/
Age & gender intersections reported in survey:
Male (62.46%): (37.64%) Female
Female run-commuters tend to younger and male run-commuters tend to be older (image)
The possibility of run-commuting with children could be significant in this pattern
🧵10/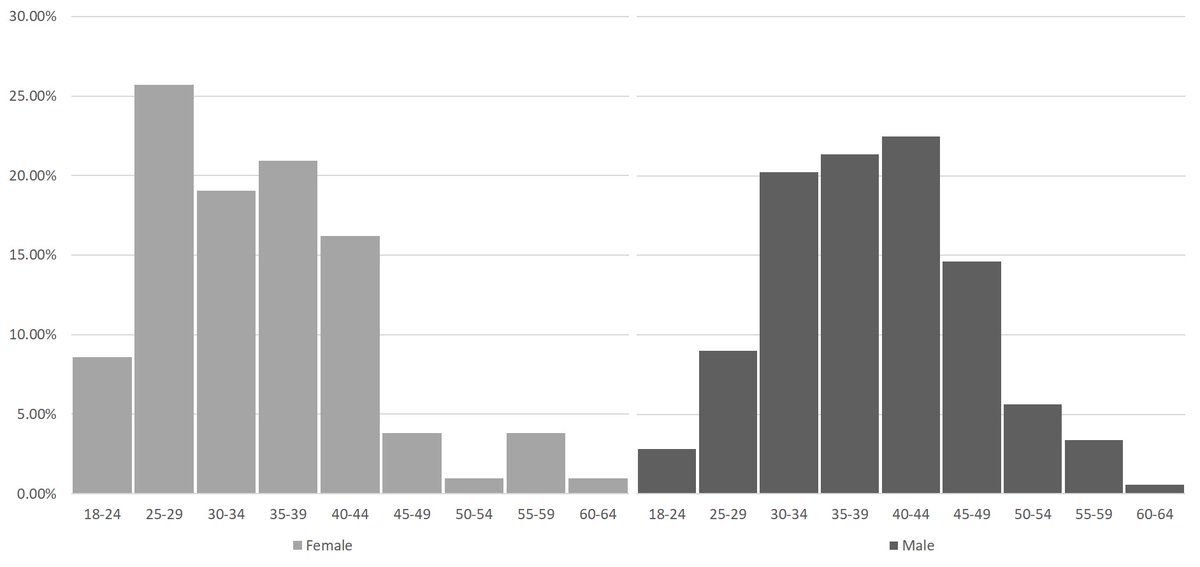 Respondents to the survey indicate that run-commuters have higher average household income (£70k – £100k) than the UK average (£32k – £48k)
Running is tied to middle & upper-class identities & run-commuting is contingent on and embodies this class privilege
🧵11/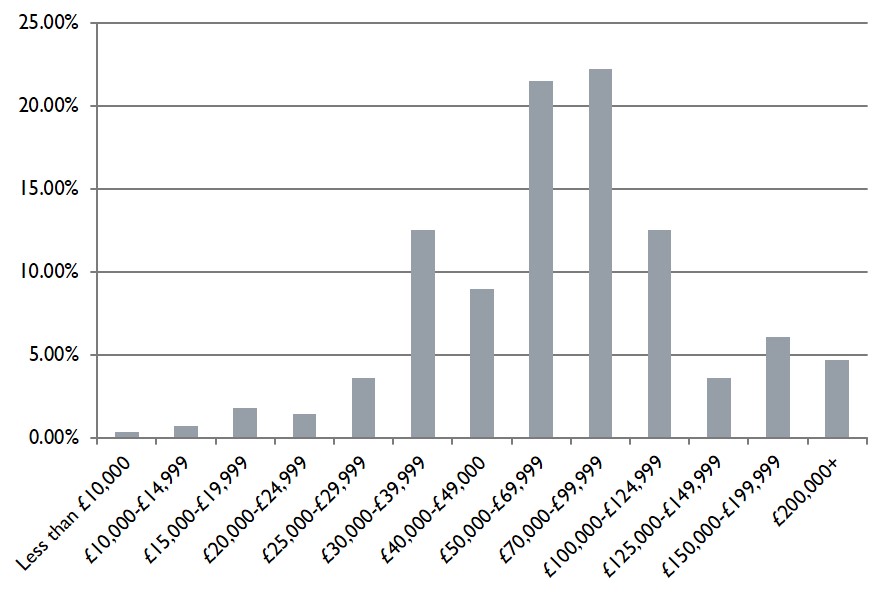 Respondents to the survey also suggest that run-commuting is very white.
Over 95% of survey respondents were white – not something mirrored so starkly in wider running demographics.
Why this is needs further research.
🧵12/
Moving onto run-commuting movements …
Most run-commuters do not run-commute every day but instead use run-commuting in a wider suite of commuting practices.
Most commonly respondents ran-commute 2 days per week (L), and often only one-way in that day (R).
🧵13/
Not everyone ran the whole commute.
About 1/4 used run-commuting alongside other transport modes in multi-modal commutes.
This was most commonly the train or other public transport.
🧵14/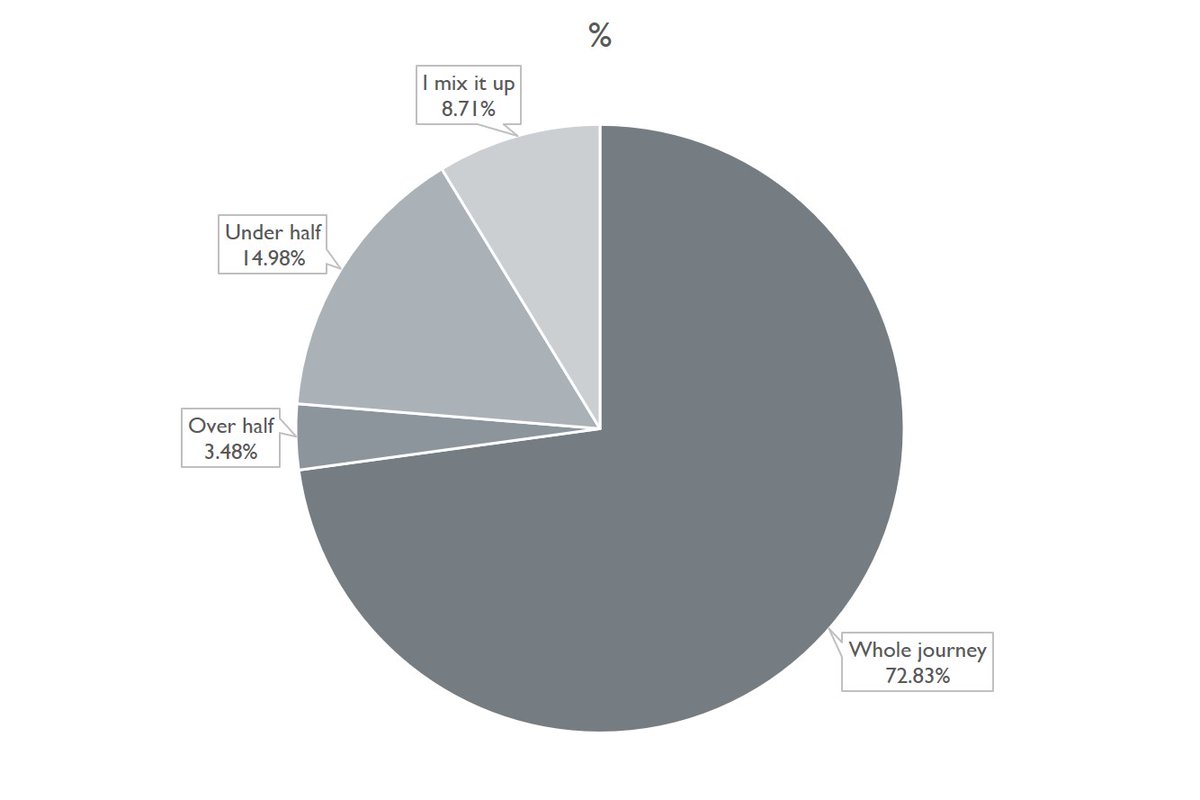 Respondents to the survey reported an average run-commute duration of 40-49 mins (L)
& an average run-commute distance of 5-7 miles (R)
There are upper & lower limits to these, above which may exceed physical abilities/interest & below which may not be worthwhile running
🧵15/
This is the 'average' female and male run-commuters in the UK based on the modes of survey responses.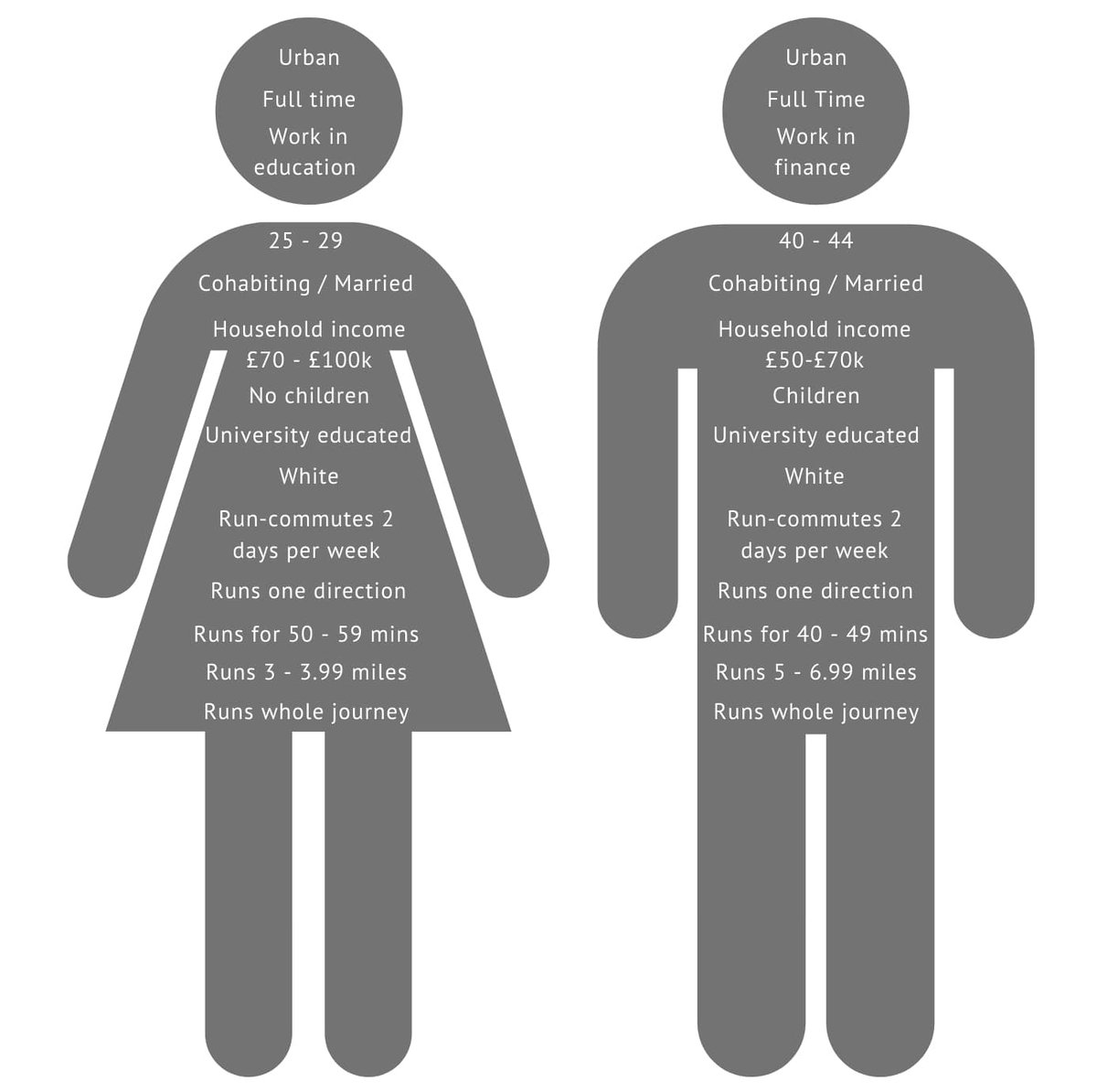 This paper is the 1st to explore run-commuting & reveals a fascinating & complex practice, deeply entwined with other rhythms, practices & structures of everyday life.
It is one worthy of further investigation in transport studies & beyond – a case I hope the paper makes
🧵16/
Huge thanks to @acurlywurly @TimSchwanen @davidbissell & Pete Adey @RHULGeography for valuable feedback on drafts, and @jlcidell + reviewers for comments in refining it.
Thanks to @ESRC for PhD funding.
& MASSIVE thanks to the run-commuters for sharing their stories.
🧵17/
Originally tweeted by Simon Cook (@SimonIanCook) on April 5, 2021.