I'm really thrilled to have this new paper out in Transport Policy. I first presented on this topic 7 years ago at an RGS-IBG conference, so it's certainly been one long in the thinking. The paper has benefited hugely from working with the excellent people at University of Westminster's Active Travel Academy -Lorna Stevenson, Rachel Aldred, Matt Kendall and Tom Cohen – and I'm delighted it's now out in the world for people to read, respond to, and likely disagree with (it is a position piece after all).
The paper is open access, so free for everyone to read and enjoy: https://www.sciencedirect.com/science/article/pii/S0967070X22002025
Here is the unroll of my Twitter explainer thread.
🚨New Paper Alert🚨
More than walking and cycling: What is 'active travel'? in Transport Policy @Transport_ELS
https://www.sciencedirect.com/science/article/pii/S0967070X22002025
It's been a joy to work on with @Lornisima @RachelAldred, Tom Cohen & Matt Kendall @Active_ATA
Hope others find it as interesting too
🧵1/
The core of our argument is that 'active travel' is generally framed & treated too narrowly – as just walking and cycling.
There are a whole range of other modes that could be brought into the scope of active travel and we suggest there are significant benefits to doing so
🧵2/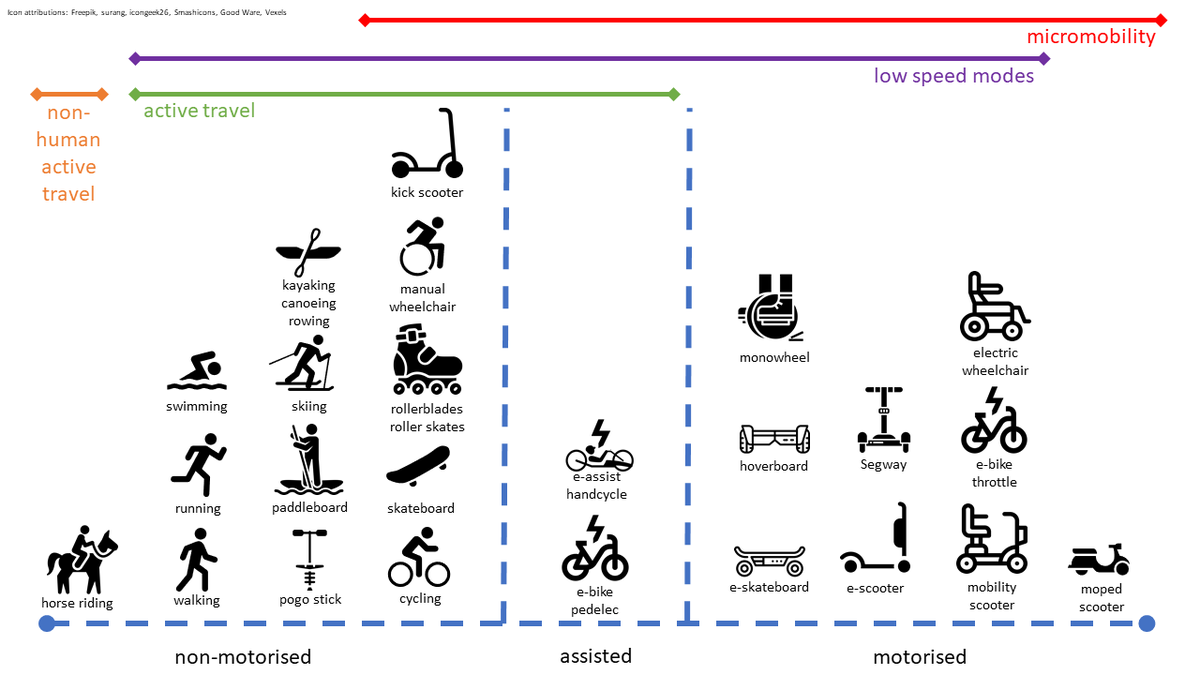 The paper considers where the concept of 'active travel' has come from and where it is taking us.
We begin with a systematic review of 'active travel' papers since 2000 which shows both an explosion of active travel work & a trend to equate this to just walking & cycling
🧵3/
We then consider possible reasons for how we arrived at the position of 'active travel = walking and cycling'
While it has served the field well up till now, we discuss the inaccuracies and possible limitations of this conceptualisation.
🧵4/
In response, we propose a new, more inclusive definition of active travel:
"travel in which the sustained physical exertion of the traveller directly contributes to their motion"
This welcomes a broader range of modes into the active travel family, inc.🦽🏃🛹🏊🛼🎿🛶🛴
🧵5/
We then present a thematic review of such wider active modes, exploring a set of six themes selected to shed light on how these wider modes are approached and understood in transport literature, and on why 'active travel' has tended to be limited to walking and cycling
🧵6/
Theme 1. Emergence and other niches
Wider active travel modes, such as skateboarding and rollerblading, are often presented in the literature as new, unconventional or novel. We discuss the accuracy of these qualities and the impact such representations have.
🧵7/
Theme 2. Fun and pleasure
Certain modes, such as scooting, are represented as explicitly and predominantly enjoyable, which may explain their exclusion from the 'serious' transport literature.
🧵8/
Theme 3. Safety/injury risk
Users of certain modes are characterised as thrill-seekers and this association with embracing risk may explain a reluctance to include them in a field which consistently seeks to reduce risk.
🧵9/
Theme 4. Inclusivity
The manual wheelchair is both a mobility aid and a form of transport, and we discuss the impact of this dualism in relation to active travel and its inclusive potential.
🧵10/
Theme 5. Regulating access and use of space
Modes beyond walking and cycling present policy makers with a challenge in terms of what should be allowed where. A desire to keep things simple may help to explain the 'othering' of wider active travel modes in literature.
🧵11/
Theme 6. Design
Leading on from the above point, designers of the transport system may shrink from trying to cater for a large set of heterogeneous forms of movement and this may also cast light on the currently narrow use of 'active travel' in literature.
🧵12/
We conclude the paper by discussing the implications of expanding active travel for transport policy, practice & research.
While not unproblematic, we consider the benefits of expansion to outweigh the risks & invite the active travel community to respond to our position
🧵/end
Originally tweeted by Simon Cook (@SimonIanCook) on August 15, 2022.